( BACK TO POSTER )
Original goals for project sustainability under ideal conditions
In the best of all possible worlds, in the sustaining phase the project would continue much as it was under the LSC, with the same level of financial support for professional development (PD) and the same level of PD per teacher. Materials would continue to be used and supported and teachers would progress in their abilities to use them effectively. Test scores would increase beyond our wildest dreams; and it would all be credited to inquiry-based instruction, which began in science and spread to all other subjects.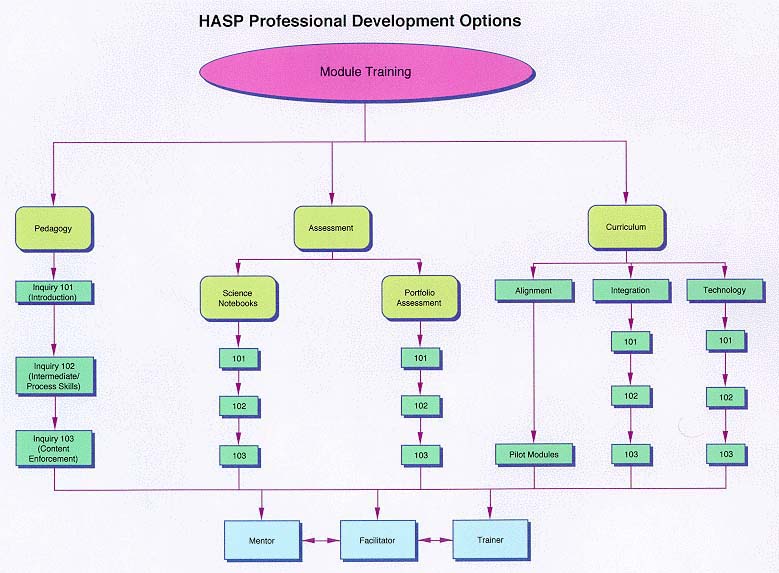 ( BACK TO POSTER | BACK TO TOP )
Reflections on these goals from the end of the project funding cycle
We are now at the end of our funding and must face realistic limitations of two basic resources: funding and time.
Funding. Funding limits the number personnel whose time can be devoted to the planning, development, and delivery of PD. It also limits the ability to get teachers to the PD, either through the payment for substitutes for release of the teachers from class during the school year or for the payment of stipends as an incentive to attend summer PD activities. This may also translate into a limitation on when PD can be done (days set aside for PD).
Time. Teachers time is also a precious commodity. For the districts it translates to funding, as noted above. But it also relates to other demands on teachers' time for professional development. In Alabama we have had a Reading Initiative for several years which is considered a priority in many schools, and with the end of the project, districts have been breathing a sigh of relief to be released from the significant commitment of teacher's PD time to science alone. [-We've done science, now we can turn to other important subjects']
Reality. What has actually happened in our case has been a limited, but significant commitment by the districts to continue providing materials support for their teachers and to support the costs of a professional development coordinator and a Teacher-in-Residence who provide 6-10 hours of science PD per teacher per year to all elementary teachers in the districts. This commitment is shared by the LSC districts, as well as three other districts who had previously implemented HASP. In order to provide for the PD needs for all teachers, from newly hired teachers to teacher leaders, we developed a menu of options which address different topics at typically three levels (see the PD options chart). This is a work in progress, but this framework provides a means for a teacher to develop a personal development plan and for district co-directors to plan for the broad areas of their district's PD needs in science.
( BACK TO POSTER | BACK TO TOP )
Suggestions for projects starting out; or, how we might have done things differently
Develop a plan from the beginning for continuing to bring new teachers into the project, because each year there will be new teachers entering the project. This may involve some periodic repetition of basic PD which all other teachers have already experienced; but it should also include a well-defined mentoring program for teachers new to inquiry methods.

Maintain contact with principals. We have recently developed an Administrative Advisory Council (composed of school principals) to help us do this and to advise us regarding what needs to be done. We should have done it sooner.

Address 'science content' issues sooner rather than later.

Involve scientists in PD for teachers, but be sure that they are prepared to work with teachers in an inquiry approach. This is particularly important for science content enhancement PD.

Keep the idea of sustaining the program near the front of your mind from the beginning. This will help project staff recognize the need for maintaining teacher and administrative support (from the superintendent on down) and for building the case that because of this project, something important is happening to the teachers and to the students; and it is worth investing district resources to continue it.
( BACK TO POSTER | BACK TO TOP )
Questions for other project's staff to reply to
What does inquiry-centered instruction do for students, beyond what can be measured on standardized assessments, that is significantly different from traditional approaches and is sufficiently important that the public (parents, business, school boards) should care enough to invest in it. Is this supported by appropriate research and documented?

Are their reliable and continuing resources available, aside from school district funds, to support sustaining programs? Are there state level programs of support for the reformed science, mathematics, and technology approaches these projects implement.
THIS POSTER WAS PREPARED BY:
R. Hugh Comfort of the Hands-on Activity Science Program project (HASP).
( BACK TO POSTER | BACK TO TOP )
---