( BACK TO POSTER )
Original goals for project sustainability under ideal conditions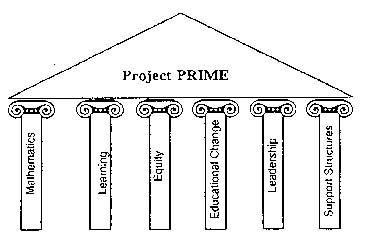 The goal of Project PRIME was to achieve sustainable reform in K-8 mathematics education in the Oxnard Elementary School District (OSD) which would result in: classrooms where all students are engaged in meaningful mathematical work and are mathematically powerful. In order to accomplish this vision, we designed this four-year project to involve all segments of the Oxnard school community (teachers, students, parents, and administrators). OSD is a growing district where 88% of the 12,876 student population are students of color, 74% receive free or reduced lunch, and 46% are English Language Learners. It operates on a five-track, year around school calendar. In June 2000 we completed our fourth and final year; the project continues this year (2000-2001) on a limited scale with a focus on sustainability.
Trying to do it all. While mathematics professional development for teachers was central to the design of this project, professional development was also provided for site and district administrators where they learned how to support teachers in the change effort and new ways of evaluating mathematics teaching. Considerable resources were devoted to developing school/family relationships by conducting Family Math Nights at schools and Leadership Seminars for Parent Leaders. The development of teacher leaders who served as Site Facilitators for their school was an essential part of PRIME.
( BACK TO POSTER | BACK TO TOP )
Reflections on these goals from the end of the project funding cycle
In the best of all possible worlds we had hoped that, because of this project, every child would be consistently and fully supported as a learner of mathematics both at school and at home, and teachers would be fully supported by administrators to transform their mathematics teaching. For us this meant not only working with teachers to increase their understanding of mathematics and mathematics pedagogy, but also helping teachers and administrators have a better understanding of how race, class, and gender bias affect mathematics teaching and learning.
The first two or three years we were making progress and learning a great deal. Increasingly, however, state policy changes regarding standards for mathematics instruction, recommended curriculum programs, assessment of student learning of mathematics, and school accountability based on standardized test scores caused concern regarding the reform mathematics curriculum that had been adopted in the district. With the advent of a new "high-stakes" state-mandated test, teachers began to go back to "drill and kill" teaching, thinking that this would prepare their students for the test. Not everyone went back-but enough of them.
The Parent Leaders have been strong advocates for mathematics reform in the classroom. These parents formed a Parent Group called Supporting Understanding of Mathematics (SUM) that developed math games and activities to take into the classrooms to use with students. The parent component of our project went well but could have been more powerful with more parent participation in the leadership.
Some aspects of the project which have been sustained because of the leadership and high-quality mathematics professional development are:
One project leader remains in a leadership role for mathematics at the district level - a position that did not exist prior to the project.

Teachers who were Site Facilitators volunteered to continue providing math leadership by planning and conducting four-day math institutes for their colleagues.

There is a "New Teacher Math Institute" held each year to help beginning teachers entering the profession that was started by Project PRIME.

The district is utilizing district and state funds to institute monthly grade level lesson study and planning sessions that were initiated during the project.

District leadership continues to hold out the vision of teaching mathematics for understanding in spite of external pressures.
( BACK TO POSTER | BACK TO TOP )
Suggestions for projects starting out; or, how we might have done things differently
Now that we are at the end of the project it is clear that we needed more time and money to totally meet the vision which was set as a goal. This goal was obtainable but there have been many trials including the need for teachers to increase their knowledge and understanding of mathematics to make the best use of the adopted curriculum and the change in state policies.
It was challenging to have teachers who did not feel confident enough about their own mathematical knowledge take on a leadership role. The math institutes were used to help alleviate this problem but we needed time to develop their understanding and confidence. If we had it to do all over again, we would have taken the first year of the project to develop the leadership needed to take on the task of conducting institutes on mathematics and equity. Another challenge was that each year there were changes in the teacher leadership due to job or school changes - but this is just the reality of how things work at school sites.
We suggest:
Take one year to fully develop leaders and action plans.

Get lots of support from the parent community and build in parent leadership (providing childcare for meetings with parents).

Focus on the culture of each school and the site principal to determine the environment for change at the school.
( BACK TO POSTER | BACK TO TOP )
Questions for other project's staff to reply to
What are you doing to retain the same teacher leaders each year (if you have this model)?

What are you doing to bring the parent/community into this process of change?

How can projects help administrators move away from "business as usual" and really embrace the "vision" when there are so many external pressures?
THIS POSTER WAS PREPARED BY:
Nancy Terman and Ruby Durias of the Partnership for Systemic Reform to Improve Mathematics Education project.
( BACK TO POSTER | BACK TO TOP )
---