( BACK TO POSTER )
Original goals for project sustainability under ideal conditions
ALM's vision was one of systemic change, a transformation of whole-school systems into "learning organizations" that adopted new educational procedures (Senge, 1991).
We envisioned a district administration that (1) supported and valued the efforts of school personnel to improve instruction, and (2) used the media to inform the community about the purposes and support for the change efforts.
We envisioned schools that placed a priority on children's learning and understanding of mathematics. This priority would be apparent to visitors as they walked through every hallway and classroom.
We envisioned administrators who understood and supported Standards-based teaching. We knew the administrator would be the key to the success or failure of the change initiative. The administrator would make essential decisions such as: Do I treat teachers as professionals and involve them in the change process from the beginning? Do I provide time for professional development and in-class support? Do I have a visible presence in the classrooms to communicate the importance of the program and to ensure that improvements are taking place? Do I insist that the necessary materials are ordered and in the school before the first day of school? Do I schedule an hour a day for mathematics instruction? Do I adjust the schedule to support collegial interaction during the school day? Do I allocate time to meet with other principals to share experiences, successes and stumbling blocks?
We envisioned teachers who were interested in developing their own understanding of mathematics content and pedagogy. Teachers would be excited about participating in the project and would welcome the opportunity to attend professional development. Teachers would collaborate with colleagues. Supported by ALM program associates, teachers would begin to teach Standards-based lessons. They would encourage students' strategies and ideas, and respect students' thinking. Teachers would create assessments that would communicate to children that their mathematical ideas were valued. By the fourth year, teachers would be ready for a full implementation of a Standards-based curriculum without the assistance of a more experienced other.
Students would be eager to experience and learn mathematics. They would take responsibility for their own learning, initiate investigations, invent strategies for solving problems, and support the learning of their classmates.
After ALM support concluded, we expected administrators to take the necessary steps to continue the program. The administrators would continue to provide professional development opportunities for new teachers, either in the building or by sending them to ongoing UIC sessions. Administrators would either allocate funds to have a mathematics coordinator on staff, or release teacher-leaders to mentor new teachers and provide in-class support. Teachers would continue to use the curriculum and continue to interact with colleagues. They would observe each other's lessons and provide feedback, and be open to observers in their own classrooms. They might consider being teacher-researchers, and exploring ideas and issues in greater depth.
( BACK TO POSTER | BACK TO TOP )
Reflections on these goals from the end of the project funding cycle
We have witnessed the vision in some schools, but not in others. We know it is possible, but key elements must be in place.
Schools need a minimum of four years of on-site support.

Systems must be in place to support new teachers and facilitate discussions with the entire faculty.

Schools must have strong administrative leadership.

Teachers must have time to collaborate and work together.

Professional development must continue.

Schools must identify and then eliminate obstacles to the change process.

Teachers must feel comfortable seeking support from mathematics leaders in the building.

All of the members of the school community must understand the issues surrounding standardized tests and other accountability structures. What percent of the instructional time is spent on testing and test preparation?

Schools must set priorities and eliminate the partnerships that conflict with the goals of the systemic change initiative.

Districts should identify days for professional development that suggest its value. Scheduling professional development days on Halloween, Good Friday, and the last day of school implicitly communicates the lack of priority.

Schools must work with families and provide them with ideas and materials to work with their children at home.

Schools must continue to fund the program after the project ends. Funds should be allocated for teacher leaders, materials, and continuing professional development.

The entire faculty needs to be knowledgeable about the mathematics content throughout the K-8 instructional program.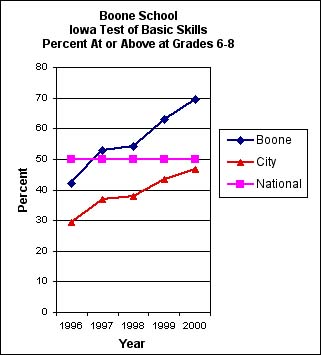 ( BACK TO POSTER | BACK TO TOP )
Suggestions for projects starting out; or, how we might have done things differently
Work with a district that is committed to the systemic change process.

Identify schools that are interested in systemic change and willing to allocate the time to explore mathematical ideas and examine Standards-based curriculum.

Plan the first year of funding as a pre-implementation year. Involve administrators, teachers, and families in the planning process.

Provide professional development for administrators from the outset.

Design professional development to meet the needs of each district, each school, each administrator, and each teacher.

Offer professional development on issues such as classroom management and leadership.

Work with families. Do not ignore their concerns.

Work with schools that demonstrate a commitment to the change by allocating resources for materials and professional development.

Encourage schools to create schedules that support the changes occurring in the classroom, including more time for mathematics instruction and common planning time for teachers.

Use data to support the changes occurring. Use assessments that are aligned with Standards-based instruction.

Adjust the timeline as follows:

Year One - Pre-implementation, planning and professional development.

Years Two-Four - Professional development and classroom support.

Year Five - Professional development and classroom support for new teachers.
( BACK TO POSTER | BACK TO TOP )
Questions for other project's staff to reply to
How do you distinguish districts/schools that are committed to systemic reform from those that are seeking a "quick fix" to get the test scores up?

How do we change the system to incorporate the time needed for professional development?

How have you handled high-stakes testing in your district?

Which has been more effective - a gradual or full implementation?

How have you worked with the most resistant teachers?
THIS POSTER WAS PREPARED BY:
Kathryn Chval and Mary Jo Tavormina-Porn of the University of Illinois at Chicago-All Learn Mathematics Project.
( BACK TO POSTER | BACK TO TOP )
---